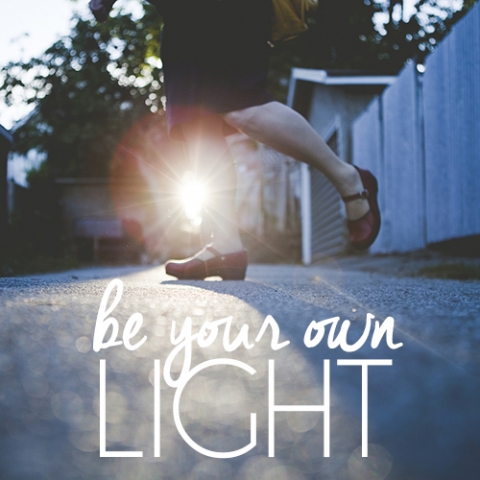 Are you ready to let your light shine in photos? And by that I mean…take photos that have you feeling radiant, as though it's far more than just about your physicality.
That you shine through.
Then get ready to be your own light.
Be Your Own Light invites you to explore the light around you and the light within you too. It's about using the tool of light to take photos that you can see yourself with kindness through and slowly and gently inviting yourself further into the frame, into the visual story of your life!
It's time to let your light shine, to let YOU shine through in your photos and you're going to make that happen in this class!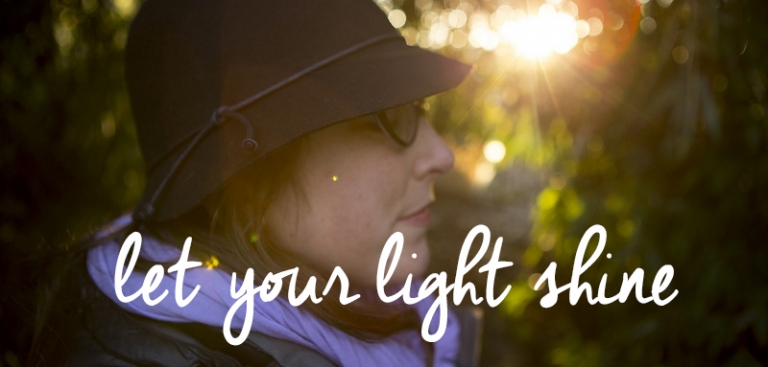 Light is all around us, all the time. Slowly shifting as the day goes by.
We feel it on our skin, let it warm us up, we watch it flow behind clouds, leave patterns on the ground and bring gorgeous colours to the sky as we watch a sunset.
It is also pivotal to our experience of seeing the world through our lens, as we need light to capture our photo. I love learning about light because it is ever changing, moving with the hour, the day, the season. It feels like the potential for endless discovery!
When we start letting ourselves into the frame, light becomes more important than ever. How do we let ourselves shine in a photo and how can learning about light help us take photos of ourselves that we feel good about? How do we take photos that let us shine?
Be Your Own Light is all about just that. Learning about light and how it can help us shine in our photos! Because here's the thing, as a self-portrait photographer and workshop leader, I so often see folks judging their bodies and physicality in photos negatively when really, the photo just doesn't let them shine. Learning about light can help us find that freedom in photos, to see them with kindness and compassion.
So not only will you learn about light, but you'll learn about how to let yourself shine in photos too!
The Course:
Each day in the course you receive a gentle daily prompt and light exploration, inviting you to get out your camera and participate.  We will be learning through experiencing these activities that will strengthen our relationship to light.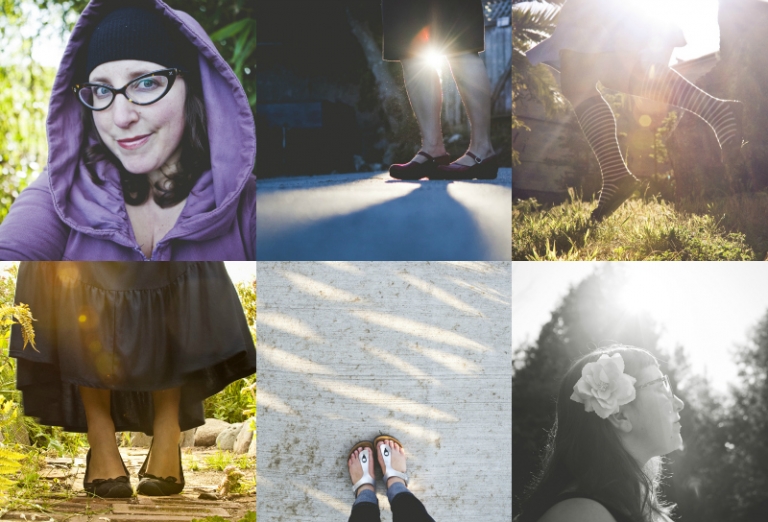 Through this class you will:
gain a strong understanding of how to light a portrait or self-portrait through natural light
strengthen your skills in natural light portraiture using yourself as your subject
learn to take incredible self-portraits using the available light in your home
take photos of yourself that feel empowered by!  Often the way we chose to light a photo can transform it from something we feel okay about to a photo we LOVE!
strengthen your skills as a photographer
you will also learn to look at a moment that you are going to take a photo and see your possibilities for how to light your self-portrait in that moment and feel empowered to choose the one that feels right for your selfie!
learn all of Vivienne's favourite tricks for capturing magical light effects in self-portraiture in small daily doses
have a whole lot of fun.  Vivienne's courses always have a playful and supportive energy to them that helps push past fear!
This class is for:
Folks on a self-portrait journey that would love to dive deeper into exploring the magic of light in our photos
Beginners or intermediate photographers that would love to learn more about using natural light
Folks ready to stop hiding from the camera and learn to stand in their light!
Light hunters, magic seekers, and folks craving to add an extra spark to their photos by exploring the magic of light hunting!
For this class you will need:
A camera of any sort be it a phone, a point and shoot or a DSLR!
You will receive:
Gentle daily prompts for 20 days of light discovery!
The course posts arrive directly into your inbox inviting you to explore an aspect of light
A course PDF at the end of class so you can refer to after class!
Dates:
The class is self-paced so you can start at any time. Once I receive your registration I'll get you all set up for class.
Cost:
$39
Registration:
Click 'Add to Cart' to Register

Please be sure the email address you have listed in Paypal is the one you'd like me to reach you at for the course.  If not, just let me know your preferred email address  in the 'Notes to Seller' area in Paypal!  Thanks so much!
FAQ
Do I need to have taken Be Your Own Beloved to take the class? Or is it similar prompts?
You most definitely don't need to have taken Be Your own Beloved to take this class. It can be a great way to ease yourself into being in your photos or as a companion to the class if you've already taken it. But the prompts are entirely different…in Be Your Own Beloved there is 1 day where we focus on light but this class explores it every day so it's a great way to dig deeper or begin your selfie journey, and explore standing in your light!
What if it's rainy or it's not summer where I live?
One thing that that we'll dig into in class is that this isn't just about taking photos on gloriously sunny days. It's about building a relationship to light and that includes how to take our selfies on days where there isn't sun and get in touch with the cycles of light around us and how best to use them to take photos that help us shine and see ourselves with love! So if it's winter where you are (you lovely Southern Hemisphere folks) you are 100% welcome to join in for class! Or if it's summer where you are, it's a great time to celebrate and work with the light around you!
If you have any other questions about the class, don't hesitate to click the Contact button on the top menu and send me a message!