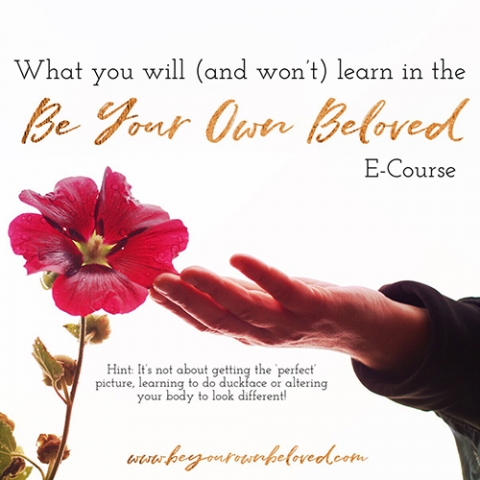 I know when people hear about a class exploring selfies as a tool for self-compassion they often have a lot of preconceptions that come up, mainly because there are so many preconceptions around selfies. There are also so many ways I think we're taught to use selfies in ways that actually don't serve our self-worth. 
So I thought I'd share some of the things I will and won't be teaching you in Be Your Own Beloved!
What I won't teach you in Be Your Own Beloved:
How to take selfies from only flattering perspectives
How to make yourself look 'smaller' in photos
The angle everyone should be taking their selfie at for it to be 'good'
Apps you can use to alter your face or body to look totally different
The parts of your body you should be showing and should be hiding in your selfies (because I don't believe that of course).
The kinds of selfies that you 'should' be taking to go viral
And here's why I won't be teaching you these things…because society already does. They are what we are told in most 'How to' articles about selfies. I think we learn the answer to them everywhere we look these days and more importantly they re-enforce the idea that your body isn't enough. 
Instead I want to teach you what the world hasn't taught you through the lens. This class is a place where you give yourself permission to go outside of what you're told and make space to feel SEEN (by yourself first and foremost).
I'll be guiding you through the process of learning:
How to begin emerging into the lens gently (even if it feels vulnerable)
Different ways you can take a selfie outside of arm's length photos
How to take selfies that feel like they tell YOUR story, not a story you feel like you should be telling.
How to make selfies a space for self-connection and personal truth telling
How to let go of expectations with yours photos and welcome in possibility
That you are inherently worthy, no matter what a photo looks like
How to claim space in your photo and give yourself permission to take the kinds of selfies you need to, to feel seen by YOU.
How 'flattering' angles just keep us in a box and if we approach ourselves with curiosity and kindness, we can see any angle with compassion (and that your photo doesn't have to be 'flattering' to be worthy)
How to take a photo that you may not feel comfortable and use creativity to become more comfortable with it
That 'good photos' and 'bad photos' are boxes we put ourselves in that don't serve us and we can break those boxes open
My favourite trick for finding light to let you shine in the moment (it's super simple but whenever I teach this in person people's jaws always drop because it makes ALL the difference).
That there is a person waiting for you in the photo asking to be seen and not have so many expectations placed on their worthiness
How we don't have to get the perfect photo to be worthy. Nor does it have to be fancy or even take a lot of time. I'll teach you how to let your simple selfie be enough (and some days you WILL have time to take more time with your photo). And that both are worthy photos.
How the practice of taking selfies can feel like coming home to ourselves and it's not selfish to make this space for ourselves.
And I know, that's a lot. But don't worry…they come in really gentle activities that are beginner friendly and you don't need photo experience or selfie experience to join in. Some of it I directly address in prompts and other things are what I've designed this class for you to experientially learn through the act of taking the photos (because being told an idea is one thing but experiencing it ourselves makes it even more powerful and life changing).
You also don't have to be at any certain place with your selfie or body-compassion journey. Like I say in the welcome post I'll send you once you sign up…all you need to do is show up for yourself each day with an open heart and willingness to experiment, explore and be open to possibility!
Come join me for Be Your Own Beloved! You can register here. I do want to mention that for the many years of offering this class I've been doing it 3-4 times per year but this year it's just going to be twice so there will be a much longer wait for the next session than you might be used to. Just wanted to share that in case you don't want to wait to start this exploration!
And of course, if any questions are arising about other things you're wondering if you'll learn in class don't hesitate to ask me in the comments or use the contact form to connect with me. I'd love to hear from you.