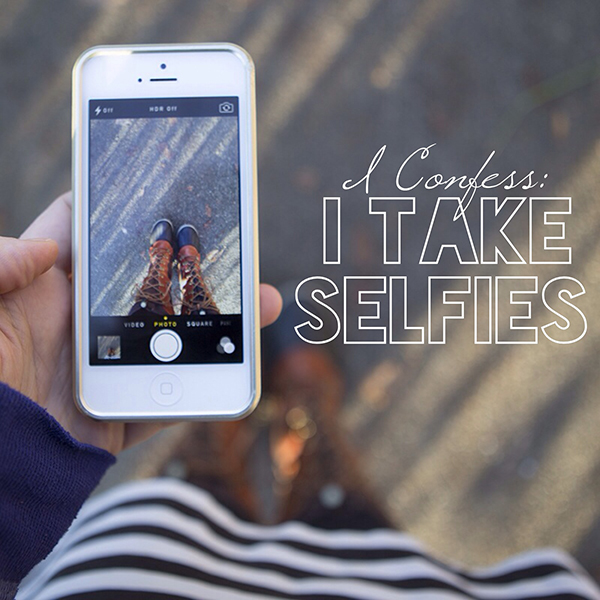 I confess.
I take selfies.
Now, as someone who teaches about self-portraiture, you might assume I'd be married to the term self-portraiture, holding it tightly as the 'seflie' culture grows, but I've gotta tell you.
I'm not.
So, as you might know, a couple weeks ago the Oxford Dictionary decided that 'selfie' was the word of the year.
Since then (and it happens every so often) there ends up being an article bashing selfies.  Thankfully, also a great collection of articles came in response, inviting people to see selfies in a different light.
Once in a while, when I'm chatting with people about what the work I do, which is helping people to see themselves with compassion through the tool of self-portraiture, people express how relieved they are when I use the word self-portrait rather than selfie.
And I get it.  A selfie is defined as: "a photograph that one has taken of oneself, typically one taken with a smartphone or webcam and uploaded to a social media website".
We naturally have a picture in our head of what else a selfie is: Lips together, camera held above, bad indoor lighting.  We also likely have a celebrity we envision taking that selfie.
A self-portrait on the other hand, is artistic.  It is thought out.  It is composed.  It is art.  Or is it?
Many times when I'm sharing a bit about my work, people start visualizing what a self-portrait is and often people assume that my work is black and white, mysterious, mostly-nude and creatively post-produced because to many of us that is what the accepted idea of the photographic self-portrait is.  I have incredible peers who make breathtaking work just like that but….
Thats not what I do.
That just isn't the type of self-portrait that is what I need to heal my own body image and see myself with kindness.
I need to see the everyday me, running errands and pausing to take a photo with something I find along the way.
I need  to set down my camera and move, dance, and reconnect with how it feels to feel at home in my own body.
I need to look the woman in the camera in the eye.  Yes, sometimes at arms length. Yes, sometimes in my bathroom under not the best light.
I need to reclaim my relationship to how I see her and to choose compassion over criticism.
I need to redefine my relationship to beauty, on my terms.
I need to take self-portraits that are about the story of my life, and have me in it.
I also share them online on a regular basis, especially on Instagram and love seeing other people's selfies.
So you see, I'm wandering closely into the definition of a selfie, aren't I.
This year in particular, as I taught 4 sessions of Be Your Own Beloved (a class inviting you to see yourself with compassion through self-portraiture) I wanted to participate alongside the group taking the class and I consciously chose to do that with my iPhone, to show them that it isn't about having a fancy camera (and not letting that 'I don't have fancy enough gear' story get in our way).
More than ever, I am taking self-portraits with my iPhone.
And yes, sharing them on social media.
I take selfies.
Here's the thing though.  I actually don't believe selfies are bad.
I think they are what we choose to make them.  
Most of the negative perceptions of selfies are directed at teenagers.
The hundreds of women I am working with in the Be Your Own Beloved work, we are of a different generation than the teenagers these articles are referring to for sure.  Many women haven't been in a photo in many years and have always had assumptions that they are not photogenic.
I can't help but wonder if underneath our assumptions of teenage narcissism there are so many young women and men who are learning to self-define, to see themselves with kindness, to create images of themselves that are not reflected back at them in the media.
I also wonder what would have happened if I found self-portraiture as a tool for self-compassion in my teens (when I seriously could have used it) rather than to spend 20 more years in a place of self-hate.
I wonder if many of the women I guide in Be Your Own Beloved are also healing that teenage place in themselves.
To categories all selfie-taking as narcissistic discounts so much reclamation and empowerment that may be happening behind the scenes.
When we bash selfies, we also silence the bravery that goes into them.
Yes, with both self-portraiture and selfies there will always be a population of people doing it that don't deal with self-esteem challenges, that fit the norm of beauty and that have no problem picking up a camera and taking a self-portrait.
This is not who I teach to.
That is not who I am.
For the rest of us, picking up a camera brings along an inner critic with it.  That tells us we aren't enough, that pictures those folks who don't struggle with self-esteem or fit a norm and compares ourselves to it.
This is where the bravery of selfies come in.  When we don't listen to that inner critic telling us those things and choose to take that photo anyways.
It is the bravery that is the most healing part of it.
Saying to our inner critic "I'm going to do something different than what you are thinking of me"
And doing it.
I think when we bash selfies, we invite people's inner critics to be even stronger as though it is wrong to take our own photo.
It is not wrong, whether it is an artistic self-portrait, an arms length photo, or a straight-up selfie.
They are a present day tool to learn to see ourselves with kindness.
Or yes, it could be a way to take images to get approval from others.
Selfies are what we make of them, as with self-portraiture
They are the tool that has helped me travel from a place of low self-esteem to a place where I can see myself with love.
A tool that we might see as an enemy, but can be an incredible ally.
I confess.
I'm a self-portrait photographer, a teacher of body acceptance & self-love,
and I don't want to deny it or shy away from it anymore.
I take selfies.